What would happen if you never tolerated inaction in yourself? Think about that for a moment, what would happen if you never tolerated inaction in yourself?
From the book, Atomic Habits, there is a common mistake that often happens to too many of us. The mistake has to do with the difference between being in motion and taking action. They sound similar, but they're not the same.
When you're in motion, you're planning and strategizing and learning. Those are all good things, but they don't produce a result. Action, on the other hand, is the type of behavior that will deliver an outcome.
Here's a couple of practical examples:
If I outline 20 ideas for articles I want to write, that's motion. If I actually write and publish an article, that's action.
If I email 10 new leads for my business and start conversations with them, that's motion. When I actually set an appointment that's action.
If I search for a better diet plan and read a few books on the topic, that's motion. If I actually eat a healthy meal, that's action.
Sometimes motion is useful, yet it will never produce an outcome by itself. It doesn't matter how many times you go talk to the personal trainer, that motion will never get you in shape. Only the action of working out will get the result you're looking to achieve.
If motion doesn't lead to results, why do we do it?
Sometimes we do it because we actually need to plan or learn more. But more often than not, we do it because motion allows us to feel like we're making progress without running the risk of failure. Most of us are experts at avoiding criticism. It doesn't feel good to fail or to be judged publicly, so we tend to avoid situations where that might happen. And that's the biggest reason why you slip into motion rather than taking action: you want to delay failure.
It's easy to be in motion and convince yourself that you're still making progress. You think, "I've got conversations going with four potential clients right now. This is good. We're moving in the right direction." Motion makes you feel like you're getting things done. But really, you're just preparing to get something done. When preparation becomes a form of procrastination, you need to change something. You don't want to merely be planning. You want to be practicing.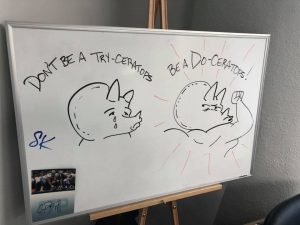 Some ideas to get out of motion and into action:
Work expands to the time you give it: Set a specific time for each task.
Set a schedule for your actions: Basic time blocking.
Pick a date to shift you from motion to action: set hard deadlines.
Ignore, switch your feelings: "I don't feel like it" to "Let's get this done!"
For some goals, setting a daily or weekly schedule doesn't work as well. This is the case if you're doing something that is only going to happen once: studying for your broker exam or getting your GRI. These things require some planning up front (motion). They also require plenty of action to complete them. For example, you could set a schedule each week to study. In a situation like this, research shows it's best to simply pick a date. Put something on the calendar – like the test date. Make it public. This is when X is happening. In other words, set a HARD DEADLINE.
Research shows that people who make a specific plan for when and where they will perform a new habit are more likely to follow through. Too many people try to change their habits without these basic details figured out. We tell ourselves, "I'm going to eat healthier" or "I'm going to write more," but we never say when and where these habits are going to happen. We leave it up to chance and hope that we will "just remember to do it" or feel motivated at the right time.
Hope is not a strategy!
An implementation intention sweeps away foggy notions like "I want to work out more" or "I want to be more productive" or "I should vote" and transforms them into a concrete plan of action.
Many people think they lack motivation when what they really lack is clarity.
One simple way to apply this strategy to your habits is to fill out this sentence:
I will [BEHAVIOR] at [TIME] in [LOCATION]
I will follow up with 4 leads a day for 30 minutes at 9 a.m. in my office.
I will complete part 1 of my project investing twenty minutes at 10 a.m. in my office.
I will exercise for one hour at 5 p.m. at my gym.
I will make my wife a cup of tea at 7 a.m. each morning in the kitchen.
Give your habits a time and a space. The goal is to make the time and location so obvious that, with enough repetition, you get an urge to do the right thing at the right time, even if you can't say why.
To put it simply: planning out when and where you will perform a specific behavior turns your environment into a trigger for action. The time and place triggers your behavior, not your level of motivation.
Motivation is short lived and doesn't lead to consistent action. If you want to achieve your goals, then you need a plan for exactly when and how you're going to execute on them regardless of how you feel.
There are some lessons that only #failure can teach. Failure is not the problem… inaction is… procrastination is.
Let's commit this week to move from motion to action.