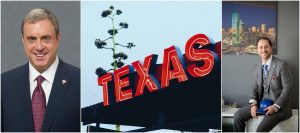 By Patrick Kearns | Staff Writer | Inman
JP and Associates Realtors® (JPAR) announced Monday that Geoff Lewis, a veteran executive of RE/MAX, is joining JPAR's parent company Vesuvius Holdings, LLC. Lewis, who departed from RE/MAX in February 2018, will be serving as president of the company starting on July 1, 2019.
"Our industry is ripe for disruption," Lewis said in a statement. "Since I left RE/MAX Holdings, RE/MAX and the other traditional companies have been losing agents. I wanted to associate with and help grow a real estate company whose business model is relevant and attractive to brokers and agents competing in today's highly competitive market."
RE/MAX has been growing steadily as a whole if you include international markets, reporting year-over-year agent count growth every quarter since Lewis left the company early in 2018. However, in its first quarter results, the company did report a slight decrease in agent count for the U.S. and Canada. Lewis had been with RE/MAX since 2004 and was serving as president of the company when he retired.
In his statement, Lewis also called JP Piccinini, the broker-owner and founder of JPAR, a dynamic and innovative visionary.
The move to add an industry veteran comes at a time of massive expansion for both the brokerage and its franchising business. JPAR was ranked as the nation's 50th most productive brokerage in transactions by the Real Trends 500, closing 9,790 transaction sides in 2018, a year-over-year increase of 45.8 percent. It was also ranked 83rd in the Swanepoel Mega 1000 list of top brokerages by sales volume, with $2.6 billion in sales and an agent count of 1,500.
While the brokerage business is growing at an expeditious rate, the company also began franchising its 100 percent commission, transaction-fee based model in June 2018. In the last six months, the company claims it has sold 40 franchises in seven states.
JPAR is also leaning into some of the industry trends, giving its agents a propriety technology suite, launching its own iBuyer instant offer program – which nabbed the brokerage an Inman Innovator Award finalist nomination – and by giving its agents access to associate healthcare and retirement plans.
"I am thrilled to have Geoff Lewis on board the JPAR team," Piccinini said in a statement. "With Geoff's past industry and franchising success, our already experienced management team expects to accelerate our phenomenal growth."
"Our transaction fee-based model combined with our proprietary B.O.S.S.S. (Broker One Stop Shopping System) technology suite, world-class training, 24/7 broker compliance support, retirement bonus plan and innovative agent health care are unique in the industry," Piccinini added. "For the broker, agent and consumer alike, JPAR is focused on exceeding expectations."